3DEXPERIENCE
3DEXPERIENCE platform is the new business platform edited by Dassault Systèmes providing knowledge and software solutions (Apps) for multi-disciplinary purposes, all based and accessible from a single and shareable environment.
MECAmaster has entered since 2013 into a Software Partnership with Dassault Systèmes to port MECAmaster Assembly (Tolerances & Loads) into the 3DExperience Platform.

The product is now available and will shortly become the new reference integration for MECAmaster Assembly.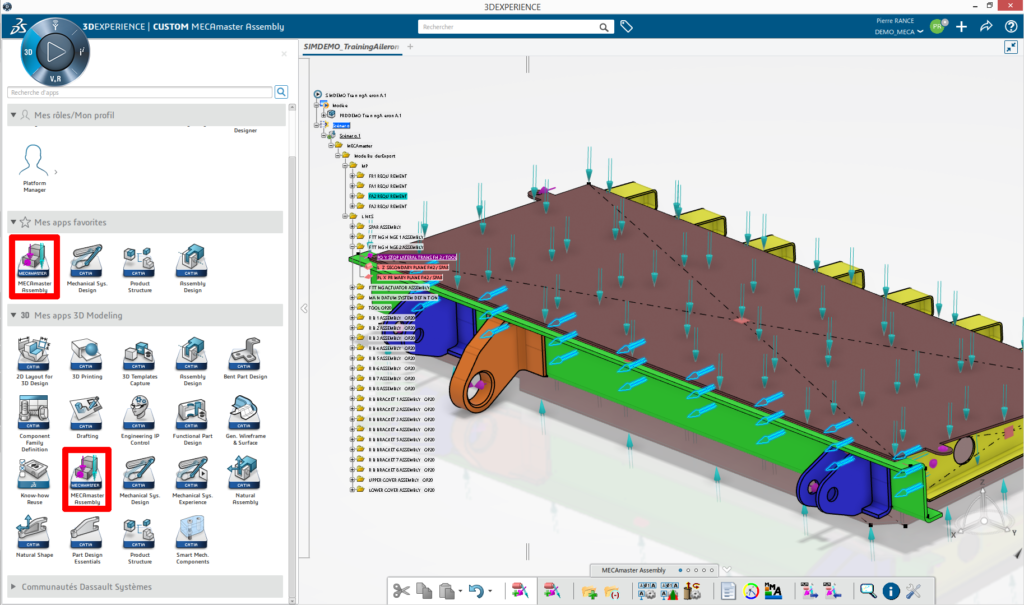 Key Features
3DEXPERIENCE is the key to get access to a full connected world. The focal point for future MECAmaster evolution in 3DExperience is then "Numerical Continuity". Exchange of tolerancing information between assemblies, sharing information from different worlds (Design, Manufacturing, Control … ) will definitely be the very main benefit of 3DExperience Platform in the future.
Stay informed to discover the future evolutions of MECAmaster Assembly in the 3DEXPERIENCE platform !!
Which MECAmaster Product is available in 3DEXPERIENCE Platform environment ?
3D Tolerances and 3D Loads functionalities of MECAmaster Assembly are available as an app of 3DEXPERIENCE .
Which release of 3DEXPERIENCE is supported ?
CATIA V6 R2013X is supported with a minimum Fix Pack of FP1516
3DEXPERIENCE R2015X / R2016X / R2017X (FP1737) / R2018X
What are the 3DEXPERIENCE Licensing pre-requisites ?
Mandatory licence pre-requisites are CNV CSV*  MDT MKS (* not any more  from R2018X)
Facultative licence pre-requisites are M3D
Is MECAmaster for 3DEXPERIENCE a simple evolution of MECAmaster for CATIA V5 ?
MECAmaster for 3DEXPERIENCE is a new product from MECAmaster SARL and will not be delivered automatically to current customer using CATIA V5 integration in the maintenance frame. A special migration offer has been defined for any active customer using MECAmaster for CATIA V5