CATIA V5
CATIA V5 is a well known and widely used software for Product Design. Edited by Dassault Systèmes, the version V5 is still a reference for product design in major industries and companies.
MECAmaster is providing its simulation tool in CATIA V5 as an automation application for more than 15 years now.

 It is fully connected to CATIA V5, and is still today (early 2018) the most used MECAmaster solution in the world !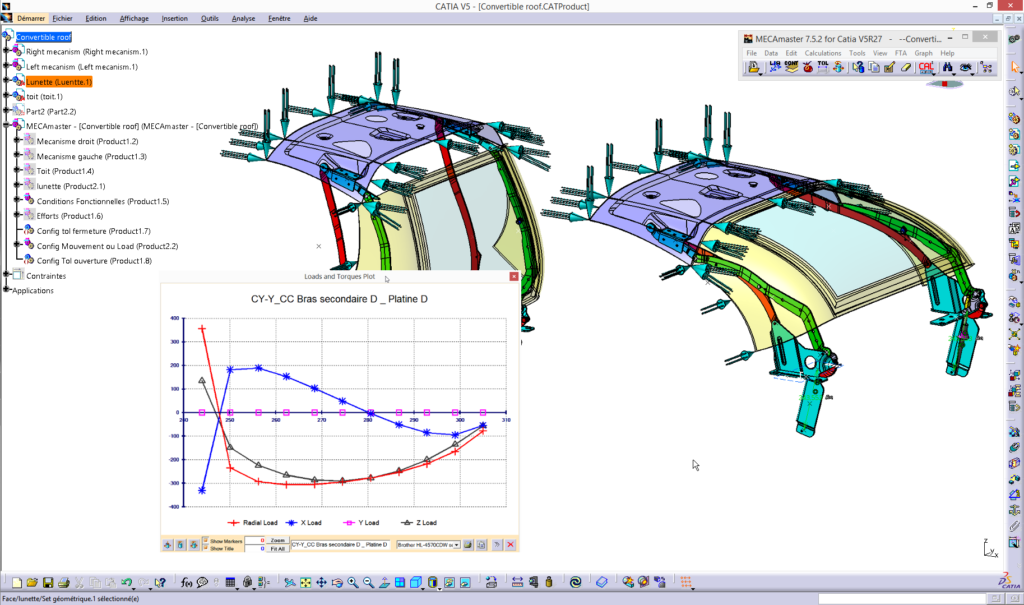 Key Features
MECAmaster works within a CATProduct in CATIA V5 and is fully connected to the master Application. The model is built using a simple interface using direct selection of geometrical (and annotations for latest versions) entities and finally stored inside the Assembly Product with all input information.
MECAmaster entities being CATIA V5 entities can benefit from any CATIA V5 interesting features like manipulation, constraints etc . enabling a huge panel of functionnalities (kinematic analysis, quick manipulation for testing concept evolutions without changing the DMU … )
Which MECAmaster Product is available in CATIA V5 ?
3D Tolerances and 3D Loads functionalities of MECAmaster Assembly are available in CATIA V5
Tolsis will as well have a similar interface in CATIA V5
Which Release of CATIA V5 are supported ?
First releases of MECAmaster has been implemented in CATIA V5R9.
Last evolution of MECAmaster is today covering all releases from CATIA V5R21 to CATIA V5-6R2018. For previous releases, please contact directly MECAmaster SARL to check which evolution can be proposed.
What are the CATIA V5 licensing pre-requisites ?
Mandatory licence pre-requisites are MD2 (or HD2)
Facultative licence pre-requisites are FT1 / FT2
Is there an end of Support of CATIA V5 ?
MECAmaster is today supporting the evolutions of CATIA V5 from R21 to V5-6R2018. 
End of support of CATIA V5 is not on the cards today, MECAmaster will probably always keeps active its CATIA V5 integration even if the development effort will slightly switch from CATIA V5 to 3DExperience.